December 2022 | Adaptability
Om Namah Sivaya
Blessed Self,
By the grace of Master and Swamiji the high season has started in three of the South Indian ashrams. Neyyar Dam started with a TTC and Yoga Vacation with around 250 people in the ashram, while the SIH is consistently busy with Ayurvedic treatments and consultations and also the Ayurvedic Wellness Course (AWC). Madurai Ashram entered into its TTC course with a number of Yoga Vacation guests, and, with the new reception building now opened, the ashram looks serene and welcoming. Gudur Ashram is still budding, offering creative Yoga Vacation retreats, and gearing towards a new TTC starting soon. We have had a rough 3 years due to the pandemic and the staff have maintained their sadhana and faith in Master and Swamiji, waiting for the guests to finally return. We have now started to receive more guests and are working hard to impart the masters teachings to all. Our centres are keeping busy with new courses and classes. We appreciate your continued support. Kindly keep watching for new programs soon to be announced in all locations.
Pranams to all,
Sivananda Yoga Vedanta Ashrams & Centres, India
Swami Sivananda's slogan, "Serve, Love, Give, Purify, Meditate, Realise," embodies the four paths of yoga in a simple way: Karma Yoga, Bhakti Yoga, Raja Yoga, and Jnana Yoga. He often followed his slogan with the words "Adapt, Adjust, Accommodate, Bear Insult, Bear Injury, Highest Yoga". By further asking us to "Adapt, Adjust, and Accommodate" Master seems to be reminding us of the importance of adaptation. Adapting links people and cements relationships. By adapting and fitting-in with others we develop the qualities of patience, compassion, and endurance. It is often said that there are only two sure things in life: death and change. We can be certain that we will face many changes over the course of life. Our bodies change, our mind changes, and, if we view our yoga practice in the long term, our practice will continue to change throughout life. Learning new things and finding inspiration by connecting with others on the path helps us to adapt to change. We root out some of our habits and gain a fresh perspective on practice. We hope the following resources help you to remain inspired in practice.
Serve All Projects:
Sivananda Free Rural Medical Hospital, Madurai
It all started with the accidental meeting years ago of Vishnu Wallani and Prahladaji in the Toronto Airport. By the time their conversation and travel ended in Uttarkashi, they agreed to start a Sivananda Mobile Clinic to serve the poor in and around our Madurai Sivananda Meenakshi Ashram in Tamil Nadu. With direction from Dr. Narayanasami of Vikram Group of Hospitals, Vishnu Wallani was kind enough to donate an ambulance and 1.5 lakh rupees each month to operate the project for the first two years. After his generous offer concluded, the Madurai Ashram took his place, raising funds each month. With Dr. Narayanasami's help with this charitable project is ongoing today utilizing 1.5 lakh rupees a month from the Ashram's donations and income.
Another boon arrived in the summer of 2021 when Arie (Lev) Mazur of Toronto, reached out to Prahlada wanting to expand the hospital outreach project to serve 40 villages around the rural Madurai area. Mr. Mazur was kind enough to donate the entire project of building, a huge 3 story hospital with all facilities such as outpatient, in patient care, laboratories with diagnostic equipment, using a huge donation of 600 thousand US dollars. The promise of supporting the entire operational cost for the first two years was estimated at another 600 thousand US dollars. The support for the hospital continued. Mr. Mazur and his family were not only generous with building the infrastructure, their intension is to expand these projects for as many people in need and desperate for free services.
For the Hospital, it has been a long journey. The final construction is near completion. The next focus will be the furnishings and equipment for the interior plus a grand inauguration within the next few months. When all is done and set up nicely, this Hospital will serve 40 villages with an estimated 2,000 patients a day. All services will be free except the treatment of complex cases and operations which may be covered in the future. Our intention and the donor's intention is to continue with this project in this magnitude for many years to come, however if the funding cannot continue to this extent after the first two years (ending in 2024) we will be forced to scale it down to the original 1.5 lakh rupees a month and reduce operations.
Another phase to the medical facilities include plans to also slowly bring in Ayurveda facilities into this building, where additional proceeds or profit through that operation can be used to fund the Free Rural Medical Facilities.
The future of this Hospital will be in Master and Swamiji's hands. We pray for all of your blessings for the success of this charitable project. Please take a look at the attached photos to see the progress so far. The YouTube video included will give an idea of the hospital's impact on the local communities.
Swami Vishnudevanandaji has excelled in three areas: imparting the pure knowledge of the ancient yoga scriptures, with no compromise, which benefitted millions around the world over the past 65 years. Secondly, Swami Vishnudevananda was very concerned about the conflicts between humans and nations. He put his best foot forward by doing several impossible peace missions around the world. Those efforts made an impact. The message was successfully conveyed with his pure intentions, without expecting or owning the results. The third excellence were the numerous charitable projects, mainly servicing India, like building houses and repairing the houses for poor and needy people, providing educational, medical and marriage help. Regular Ayurveda Medical Camps and now the Rural Medical Hospital both developed from Swamiji's focus to serve.
We are happy, as Swami Vishnudevanandaji's disciples and torch bearers, to be able to continue Swamiji's mission to the best of our ability.
We welcome and request anyone with resources to join us in this noble cause so we can continue serving many as the opportunities arise.
Photo Update:
Ayurvedic Wellness Course (AWC),
Neyyar Dam, Kerala
Some photos of our recent (November 13 to 27, 2022) Ayurvedic Wellness Course (AWC) at Neyyar Dam Ashram. For two weeks participants learn the fundamentals of Ayurveda and its application to daily living: simple therapeutic treatments, preparation of home remedies and Ayurvedic cooking. The next course dates are December 23 to January 7, 2023, for Japanese students only.
Teachings Excerpt:
"Adaptability, A Means to Peace", World Peace, Swami Sivananda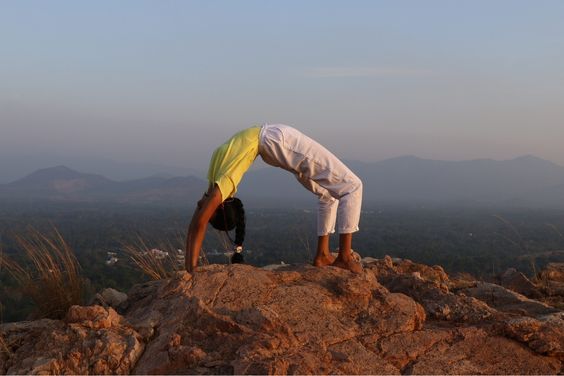 Adaptability is a virtue or noble quality by which one adapts or fits himself with others, whatever their nature may be. The man of adaptability accommodates himself with others, whatever their temperament may be. This is a most desirable quality for success in life. This has to be developed slowly. The vast majority of persons do not know how to adjust themselves with others. Adaptability is a peculiar knack or pluck to win the hearts of others by a little bending.
The wife does not know how to adapt herself with her husband. She displeases her husband always and makes quarrels in the house and gets a divorce. The clerk does not know how to adapt himself with his boss or superior. He quarrels with the superior and gets an immediate sack. The disciple does not know how to adapt himself with his Guru. He misbehaves, and leaves the Guru. The businessman does not know how to adapt himself with the customers and loses his customers and business. The Diwan does not know how to adapt himself with the Maharajah. He has to leave the State Service. The world runs on adaptability. He who knows this art or science of adaptability pulls on quite well in this world and is always happy under any conditions of life.
The man must be pliable if he wants to adapt himself. It does not need much wisdom or ingenuity for developing adaptability. If the clerk understands well the ways and habits and temperament of his superior and adjusts himself nicely to suit his ways, his superior becomes a slave of the clerk. You will have to use some kind, sweet words. A little lubricant to soften his heart is needed. That is all. Speak gently and sweetly. Carry out his orders to the very letter. Never retort him. "Obedience is greater than sacrifice." Remember this maxim at all times. The superior wants a little respect. Say, Hanjhi, Hanjhi. Ji huzur, very well Sir." It costs you nothing. Then your superior becomes your slave. He has for you a soft corner in his heart. You become his pet. He will do whatever you want. He will excuse your mistakes. Humility and obedience are necessary for developing adaptability. An egoistic, proud man finds it very difficult to adapt himself. He is always in trouble. He always fails in his attempts. Egoism and pride are two important obstacles in the way of developing adaptability.
When one student does not know how to adapt himself with his fellow-mate who is living in the same room, friction comes in and their friendship is broken immediately. Adaptability makes friendship last for a long time. Students fight for little things. One student says, "I gave Mr. X tea for several days. I took him to cinema on my own account for several days. I asked him to lend me the book "Boswell's Life of Johnson" for reading. He has bluntly refused now. What sort of friend he is? I do not like him." The friendship is broken now. A simple thing upsets the mind. Adaptability is a strong catgut ligature that links people in unbroken love and friendship. A man of adaptability can pull on with anybody in any part of the world. People unconsciously love a man of adaptability. Adaptability gives immense strength and profound joy. Adaptability develops will.
A man of adaptability has to make some sacrifice. Adaptability develops the spirit of sacrifice. It kills selfishness. A man of adaptability has to share what he has with others. He has to bear insult and harsh words. A man of adaptability develops the feeling of unity or oneness of life. For Vedantic Sadhana it is of great help. He who practises adaptability has to destroy the feelings of Ghrina and contempt and the idea of superiority. He has to mix with all. He has to embrace all. Adaptability develops universal love and kills the feeling of hatred.
A man of adaptability has to put up with the unkind words and harsh treatment of his friends. He has to develop patience and endurance. These virtues develop by themselves unconsciously when he tries to adapt himself with others. A man of adaptability can live in a cool place. He can bear the heat of Benares or Africa. He develops balance of mind. He can bear extreme heat and cold. Adaptability brings eventually Atma-Jnana. He who has this noble virtue is a great man in this world. He is always happy and successful.
Spiritual Calendar
December 3 – Gita Jayanti
December 4 – Ekadasi
December 7 – Full Moon
December 19 – Ekadasi
December 23 – New Moon
December 25 – Christmas
December 31 – Swami Vishnudevananda's Birthday
Teaching Tips:
Adaptations for Leg Raises
The single and double leg raises help to keep the abdomen strong, a necessary thing for sitting comfortably and avoiding back pain. However, one of the most common questions we are asked is how to adapt the leg raises after abdominal surgery, childbirth, diastasis recti, or hernia. In these situations, it is important to carefully strengthen the abdominal muscles, taking care not to further separate the two sides of the rectus abdominus muscles. The adaptations shown here are generally less intense and may help anyone with the above conditions, however, it is important to check with your doctor before beginning any abdominal strengthening exercises.
All best wishes for your practice and abdominal strengthening and stay tuned for Part 2 of Leg Raise Adaptations!
Temple Showcase:
Tirupati "Balaji", Andhra Pradesh
Tirupati, a spiritual city of Andhra Pradesh is located roughly two hours from the Sivananda Yoga Vedanta Tapaswini Ashram in Gudur. Beautifully located amidst the lush green terrain of Eastern Ghats in the Chittoor district, Tirupati houses traditional temples with legendary stories that make this heritage city the 'spiritual capital of Andhra Pradesh'. The spiritual vibes of Tirupati are enhanced with its beautiful terrain that lies amidst a number of waterfalls and vast forest lining. Also known as 'Balaji', the famous Tirupati temple is located on top of Tirumala hills with the city life residing in the foothills. It is believed that the temple was built starting in the year 300 CE.
Tirupati, a spiritual city of Andhra Pradesh is located roughly two hours from the Sivananda Yoga Vedanta Tapaswini Ashram in Gudur. Beautifully located amidst the lush green terrain of Eastern Ghats in the Chittoor district, Tirupati houses traditional temples with legendary stories that make this heritage city the 'spiritual capital of Andhra Pradesh'. The spiritual vibes of Tirupati are enhanced with its beautiful terrain that lies amidst a number of waterfalls and vast forest lining. Also known as 'Balaji', the famous Tirupati temple is located on top of Tirumala hills with the city life residing in the foothills. It is believed that the temple was built starting in the year 300 CE.
Famous as the temple city, the various Tirupati shrines are dedicated mostly to the incarnations of Lord Vishnu. The city is home to the divine Hindu shrine of Tirumala Venkateswara. Pilgrimage to Tirupati's rock shrines is mentioned in the Rig Veda and people from across the world flock to these shrines with unshakeable belief. The most famous Tirumala Venkateswara temple is dedicated to Lord Venkateswara, also called the Lord of the Seven Hills. Even the ancient texts of Vedas and Puranas speak of this holy shrine. Legend states that the murti of Venkateswara will remain here for the entire duration of the Kali Yuga. The shrine experiences a crowd of nearly 50,000 pilgrims each day. Besides its temples, Tirupati is also a city of scientific interest amongst archaeologists for its ancient relevance mentioned in Puranas and Sastras, with many legendary tales associated with the city. Tirupati is famous for copper and brass deities. The cuisine in this part of India is unique with extensive use of spices and tangy dishes. Tamarind, garlic, chilis and coconut are some common foods used in Andhra cuisine.
Please stay with us in the Gudur Ashram for a few days the next time you visit Tirupati or organise a day trip to the Temple from the Ashram.
Nutrition Tips:
Pranic Nutrition & Apple Fig Salad
Beyond the deep understanding of food from a modern nutritional perspective, there lies a subtle unseen aspect of food, its prana or energetic property. Some foods are cooling in nature like cucumbers, while some are heating like spices. Some are sharp tasting like chilis and some are stimulating for the nervous system like coffee. The energetic implications of foods are beyond the simple understanding of vitamins and minerals contained in them. While modern nutrition has done a wonderful job in breaking down nutrient elements to the minutest level, it hasn't caught up to the science and understanding of food's prana. As an example, while modern science has proven that coffee can be great for liver cleansing in limited quantity, yogic science still does not approve of coffee as it is highly stimulating for the nervous system. Since our nervous system is closely connected to the nadis, or pranic pathways, any excess stimulation of this system is highly discouraged in yoga.
The vibrational quality of food and its impact on the body and mind is still a hidden science much understood in Yogic & Ayurveda nutrition. Consuming foods coming directly from the nature and grown in most natural environment are high in prana and impart a sattvic personality to those who are vegetarian and natural food eaters. Needless to say, the nutrition in such foods is way higher that joining the calorific components in modern foods.
The following recipe for prana-rich Apple Fig Salad is used extensively in Sivananda meal plans for a sattvic start to the day: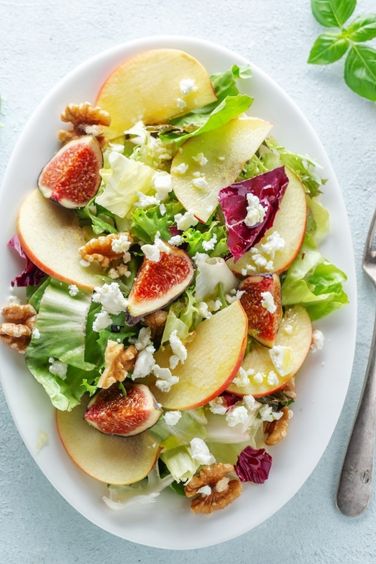 Ingredients (for 2 servings)
6 dried or fresh figs
2 apples and bananas each, sliced
Few arugula and lettuce leaves
Chopped walnuts
Grated fresh coconut
1 lemon juice
Honey to taste
Cottage cheese (Optional)
Almond butter or yoghurt (optional)
Instructions
Cut the fresh or dried figs (pre-soaked 4-5 hours) into quarters. Mix the fruit, arugula and lettuce leaves, chopped nuts, grated coconut, lemon juice and honey together. Top it with almond butter, cottage cheese or with yoghurt, if needed.
"Adaptability is a most desirable habit or quality for success in life."
– Swami Sivananda